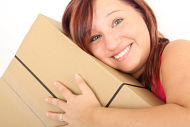 If you decide our other services aren't quite what you are looking for, we also provide a range of other specialised services to help you. We understand that all businesses are different, whether you need to send an unusual parcel or heavy shipment, we can build a service package to be delivered in just the way you need.
By combining our collection and delivery capabilities with flexibility, we are able to create tailored solutions for any business.
Our Specialist Services include:
Retail home deliveries
Handling bulky items
Handling heavy items
Removals
Two man delivery
Specified delivery slots
Storage for specific delivery date
Consolidation of parcels into a single delivery
Specified driver action on delivery
You may also be interested in...
...Our special handling services which we can combine with a time critical delivery. If your shipment needs high security, delicate handling or environmental control, just let us know when you book.
Why choose AAA Specialist Services?
Delivery solutions created and managed just for you
Complete flexibility to meet your needs
No limitations on the size and weight of the shipment
End to end management of your tailored solution to save you time and money
We keep you updated with your delivery, offering you peace of mind
Specialist support and advice whenever you need
How do I book?
At AAA we are committed to providing you with a bespoke quality service for your large, heavy and unusual items. Book your shipment by calling us on 01482 227304 Our services are available 24 hours a day, 365 days a year.